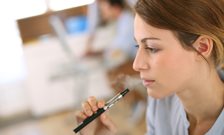 Using e-cigarettes daily may increase future attempts to quit smoking and reduce tobacco consumption amongst smokers – but only daily use of e-cigarettes which are designed to be refilled with liquid ('tanks') is associated with successful quitting, according to two new research papers published today by the Institute of Psychiatry, Psychology & Neuroscience (IoPPN) at King's College London and University College London.
There are more than two million e-cigarette users in Great Britain. E-cigarettes use battery power to disperse a solution ('e-liquid') that usually contains nicotine. E-cigarettes do not contain tobacco, do not create smoke and do not rely on combustion. Therefore, they can deliver nicotine to users with much lower exposure to the harmful constituents that are produced by combustion of ordinary tobacco cigarettes.
The two studies, published today in Addiction and Nicotine & Tobacco Research, highlight the need to distinguish between different types of e-cigarettes, as well as frequency of use. Both studies are based on a survey of smoking behaviour amongst more than 1,500 smokers in the UK in December 2012, followed up one year later in December 2013.
The first study found that 65 per cent of daily e-cigarette users in December 2012 went on to make an attempt to quit smoking within the next year compared with 44 per cent of non-users. 14 per cent of daily users in December 2013 had reduced their cigarette consumption substantially (defined as halving their consumption) over the previous year compared with 6 per cent of non-users. However, overall, daily e-cigarette users were not more likely to quit during the period of study. Non-daily use showed no clear association with later quit attempts, quitting or reduction in cigarette consumption.
Dr Leonie Brose, lead author of the first study, from the IoPPN at King's College London, said: 'E-cigarettes are still a relatively new product, so this study adds important information about what happens when they are used alongside tobacco cigarettes. We already know that using an e-cigarette in an attempt to quit smoking increases the chances of success compared to quitting without any support. This study did not test how helpful they are as quitting aids because we looked at smokers who were using them for any reason, including just to cut down on their smoking or in situations when they cannot smoke. But it is encouraging to see that even then, regular e-cigarette use was linked to reduced numbers of lethal cigarettes smoked and increased attempts to quit smoking in the following year.'
The second study extended this by looking at not only how often e-cigarettes were used but also what types were used, measured for the first time at follow up in 2013. E-cigarettes in the UK have been classified into two basic types – 'cigalikes' and 'tank' models. Cigalikes resemble tobacco cigarettes. They are disposable or use replaceable cartridges. Tank models look quite different from cigarettes and have containers that are refilled with the 'e-liquid'.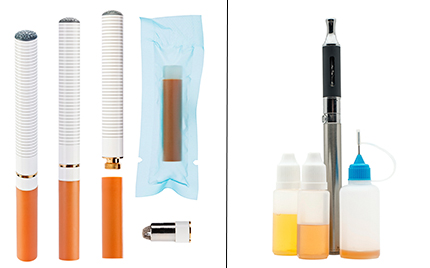 Examples of 'cigalikes' (left) and 'tanks' (right)
In the second study the researchers found that of 587 people using e-cigarettes at the one year follow up, 76 per cent used cigalikes and 24 per cent used tank models. Nearly a third of daily tank users (28 per cent) had quit smoking compared with 13 per cent of those not using an e-cigarette. 11 per cent of daily cigalike users and 9 per cent of non-daily tank users had quit smoking, but these were not significantly different from those not using e-cigarettes.
Non-daily cigalike users were actually less likely to have quit compared with those not using e-cigarettes, with only 5 per cent having quit smoking. The researchers highlight this as a cause for concern because many of the most prominent brands of cigalikes in the UK are now owned by the tobacco industry. A recent study carried out at the IoPPN, funded by Cancer Research UK, found that tobacco industry cigalikes were the most prominent e-cigarettes at the point of sale in small shops.
Dr Sara Hitchman, lead author of the second study, from the IoPPN at King's College London, said: 'Our research demonstrates the importance of distinguishing between different types of e-cigarettes and frequency of use when examining the association between e-cigarettes and quitting. At this point we don't know why people who use tank type e-cigarettes daily are more likely to have quit. Research suggests that tanks might deliver nicotine more effectively and perhaps be more satisfying to users, but there may also be other factors, including price and the ways that tanks allow the user to adapt the product, such as the nicotine content and flavour of the liquid.'
The research team concluded that future research into e-cigarettes needs to take into account what types of e-cigarettes are used and how often they are used. Professor Ann McNeill of King's IoPPN, also involved in both studies, concluded: 'Our research indicates that daily use of tank models that can be refilled with liquid may give smokers a better chance of quitting smoking. However, I would stress that the associations found may not indicate causal connections. For example, there may be differences in the kind of smokers who choose to use e-cigarettes or different models. This is something that requires more research.'
Notes to editors
Brose LS, Hitchman SC, Brown J, West R, and McNeill A (2015) Is use of electronic cigarettes while smoking associated with smoking cessation attempts, cessation and reduced cigarette consumption?: A survey with a 1-year follow-up. Addiction 110: doi: 10.1111/add.12917
Hitchman SC, Brose LS, Brown J, Robson D, and McNeill A (2015) Associations between e-cigarette type, frequency of use, and quitting smoking: Findings from a longitudinal online panel survey in Great Britain. Nicotine & Tobacco Research: doi: 10.1093/ntr/ntv078.
For further media information please contact Jack Stonebridge, Press Officer, Institute of Psychiatry, Psychology & Neuroscience, King's College London jack.stonebridge@kcl.ac.uk/ (+44) 020 7848 5377